Exciting news about San Francisco 49ers quarterback Jimmy Garoppolo was revealed earlier this week, as the Athletic's Matt Barrows reported that the veteran quarterback resumed throwing around 2-3 weeks ago after undergoing surgery on his throwing shoulder in March.

With the main hurdle being cleared for Garoppolo in his recovery process, the 49ers and their five-year starter may reach a resolution sooner rather than later, as teams will be able to see the quarterback's progress firsthand following his injury.
Reports have surfaced that the Seattle Seahawks have "done their homework" on Garoppolo, according to ESPN's Jeremy Fowlerpotentially setting up a trade in the near future, especially as teams prepare for training camp ahead of the 2022 NFL season.
However, the Seahawks currently have around $15 million in available cap space, meaning they are currently unable to take on Garoppolo's $24.2 million base salary as it stands.
But, there is one stipulation with Garoppolo's contract: it's non-guaranteed.
In the wake of the Garoppolo news, Albert Breer reported that the 49ers have been willing to let other teams communicate with Jimmy Garoppolo and his camp to re-negotiate his contract, potentially making it feasible for both sides, while absolving the 49ers from eating much salary.
"What's interesting, and I think this has been under-reported, the Niners have been 100 percent willing to let other teams come in and talk with Jimmy's camp about renegotiating his number. It's different than Baker's (Mayfield), as you know, because Baker's money was all guaranteed. None of Jimmy's money is guaranteed."
"And so, I think a lot of what happens with Jimmy is going to come down to how do you thread the needle if you're Jimmy, to 'I want to go start somewhere else. I want to get what I'm worth . But I also understand there's probably not going to be a team out there with the cash or cap flexibility to give me what's on my contract right now.'
"To me, once he's able to throw, is there a team out there that's willing to negotiate his number down, and is Jimmy willing to negotiate his number down, and are the Niners willing to take on a little bit of the money to sort of buying back a draft pick? There's a lot more moving pieces with the Jimmy situation than I think people realize, and I think he's a better player than people realize too."
"It will be interesting to see if maybe the Niners wait a couple of weeks into camp, and it turns into either there's an injury somewhere, or someone's not happy with their quarterback situation, and now, all of a sudden, you have a home for him."
As of now, only the Cleveland Browns have enough cap space to take on the entirety of Jimmy Garoppolo's contract, but given the high number and his desire to be a starter, the idea of ​​a pay cut may be more realistic, especially due to the non-guaranteed nature of his current deal.
Nobody's perfect. Did you find a mistake in this article?
Report it.
Facebook Comments
More San Francisco 49ers News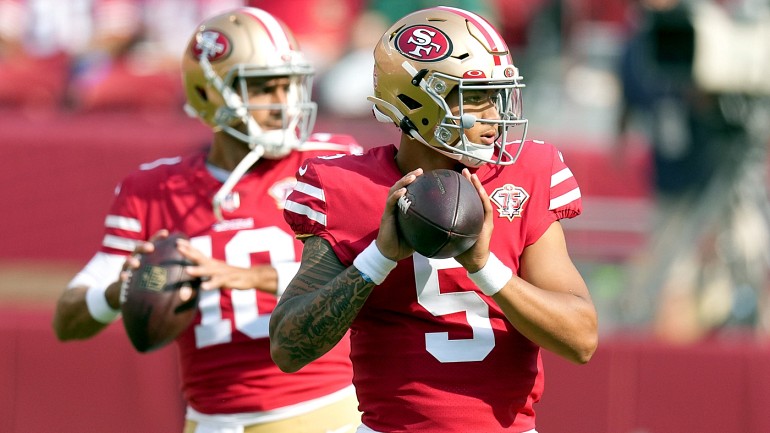 NFL Network analysts discuss futures of 49ers QBs Trey Lance, Jimmy Garoppolo
It won't be long until 49ers fans finally find out what will happen with quarterback Jimmy Garoppolo, and if Trey Lance is indeed up to the task of stepping in to take over the offense. Garoppolo and Lance have been popular topics of conversation throughout the NFL this offseason, and recently a number of analysts on the NFL Network weighed in on what the future could and should hold for each of them. First, Brian Baldinger and former NFL players David Carr and Thomas Davis gave their thoughts on which team would be the best fit for Garoppolo if and when the 49ers decide to move him. Their answer — the Seattle Seahawks. Of course, it's probably unlikely that the 49ers would choose to trade Garoppolo to a division rival. But each analyst felt the
What's next for the 49ers and Jimmy Garoppolo?
By Rohan Chakravarthi
July 6
With Baker Mayfield being traded to the Carolina Panthers in exchange for a 2024 conditional fifth-round pick, the number of trade destinations for Jimmy Garoppolo continues to decrease, making it more likely that the veteran quarterback will be released by the San Francisco 49ers before the start of the 2022 NFL season. As the 30-year-old quarterback is being cleared to throw soon, following his shoulder surgery in March, what is next for the 49ers and Jimmy Garoppolo? The Carolina Panthers are no longer in the quarterback sweepstakes. Which teams remain? Currently,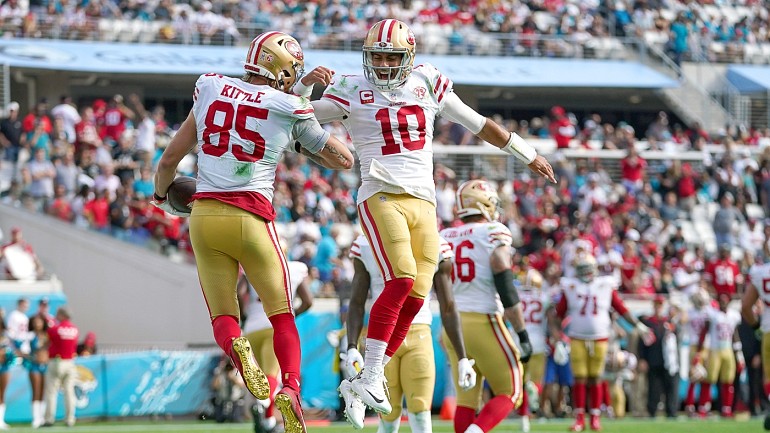 Cowherd on why the 49ers shouldn't hold onto Jimmy Garoppolo
FS1's Colin Cowherd is a fan of Jimmy Garoppolo, but he doesn't feel an NFL team can build around the veteran quarterback at this point in his career. However, he calls Garoppolo the "world's best bridge quarterback" in the league. That makes him perfect for a team looking to develop a young quarterback while trying to win games now. Garoppolo started 15 regular-season games in 2021. That allowed last year's No. 3 overall pick, Trey Lance, to sit and learn behind the veteran. Now, Lance is slated to become the 49ers' full-time starter, and Garoppolo and his hefty salary-cap figure remain with the team. Cowherd acknowledges that can't remain the case once San Francisco reaches Week 1. "I think Garoppolo's got an injury history and a shoulder surgery that concerns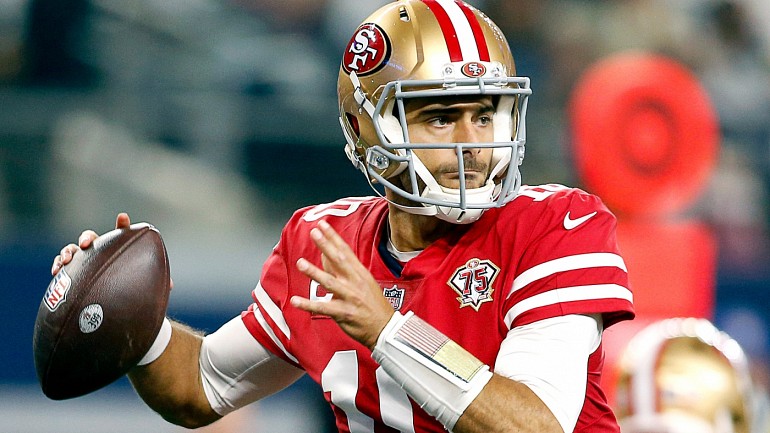 Baldinger on why the 49ers might need to play Jimmy Garoppolo during the preseason
It's been four months since Jimmy Garoppolo underwent shoulder surgery on March 8. The decision to do so took the San Francisco 49ers brain trust by surprise. They had hoped to trade their starting quarterback of the past four-and-a-half seasons, allowing second-year player Trey Lance to be the uncontested Week 1 starter. However, Garoppolo's decision to undergo surgery halted talks with other teams. "You know where we were at before that, and then he got surgery, so everything went on hold," head coach Kyle Shanahan told reporters in May. "I expect him, at some time, most likely, to be traded, but who knows? That's not a guarantee, and it's been on hold [since] that
.